So I was finally roped into attending the carnival of my old village Abbots Langley. Somehow, though I lived there for four years and I still have ties to the place, I have always seemed to have found something better to do. No such excuses yesterday.

Let me take you though the parade. Yep, the whole of it, for it won't take long and if I just pick out the highlights, there wouldn't be any...



As my friend knows locals, we managed to grab a place to stand before the other three people crowds turned up.

First up, the band of the Sea Cadets led by Official Man on Mobile Phone!



Next we are dazzled by the radiant beauty of the Abbots Langley Carnival Queen! (the blonde girl)



Greyhounds Make Great pets!



This man is (probably) British!



The elegant, serene dignity that is Britannia. There's probably a bit of sad truth in that bit of sarcasm.



Float 1. Bedmond School. Royalists I assume. Do you think they know that in the Civil War, the area came out for Parliament?





Then we have a parade of people not making an effort people dressed in the mode of the decades of the Queen's Glorious Reign.

1950's. Beyond Mini!Sir Edmund Hillary, a man holding up Mount Everest and a jukebox, I'm not seeing much of the decade there to be honest.



Then I blinked and missed 20 years and it was the 1980's!



1990's. Hey, it's Baby Spice in a stripey hoodie, but I didn't need to tell you that, did I.



The 2000's. Not a clue.



The Animal Olympics. Even the animal kingdom can't escape.



Abbots Langley Scouts can't wait for the Olympics. Can you just not help being swept up in all that enthusiasm?



Some women in pink for some reason.



The Wembley Eclipse Majorettes. Whoo! How bloody far away is Wembley? Flipping miles, that's what.



The Watford Fair Trade Men! Watford is a fair trade town, dontcha know. No, I don't know what that means either.



Float 2. Abbots Langley School. 'Olympics Through the Ages' Mainly the sitting down events.



Float 3. Tanners Wood School. Challengers for those coveted sitting down gold medals.



The car from the local radio station, Vibe. Never heard of them. But I listen to Radio 4.



More baton twirlers.



Float 4. The local builders, built a... something? A carriage you can't see? And they where towing a boat. Oh, is it meant to be the Royal Barge? (they didn't make this at the last minute, by any chance?



The local bus! Actually part of the parade! I think.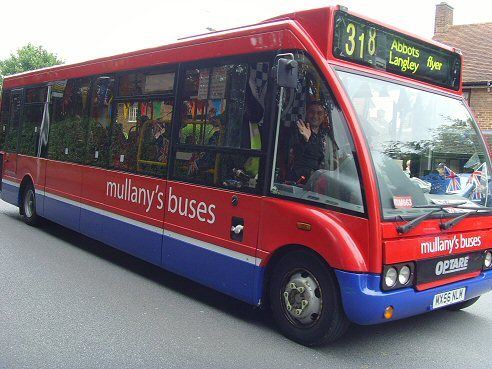 Yet more baton dropping twirling.



Run, it's the karate club! They have weapons!



Float 5. It's the Olympian Gods!

Oh. It's just the funeral directors. They won First Prize!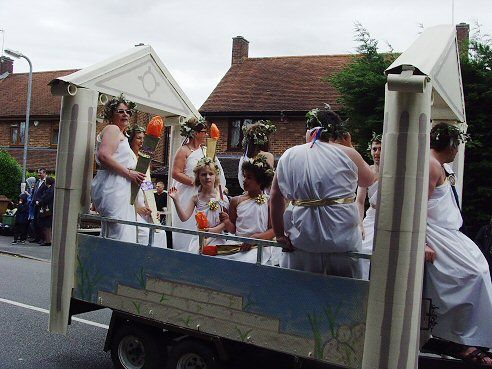 A fire thingy.



Some vintage cars.



The Parish Council van!



And to finish, of course the grand finale is a man and a poodle.



Joking aside. Five floats was all they could muster. I feel rather sorry for the village. It's not a small village by any means, yet if it wasn't for mums accompanying their children, the parade would have been very thin.

However.

They did do quite good fun day on the cricket pitch, with a dog show, a motorcycle show, a petting zoo, 'craft' stalls (more like the local charity shops taking advantage of the crowds) and bouncy castles.
.
This amused me. Win a meerkat! Or lose and win a totally random hammer! (It was inflatable):



Plus, as the village is next door to Leavesden Studios, home of the Harry Potter films,. they sent along................. Owls! Bloody Owls!

They were lovely though.



And that was it. Except bumping into someone I was at school with that I haven't seen for 20 years who didn't recognise me.