Hee. I bet there aren't many girls that get a Stanley knife and a book about fonts for their birthday! (It is a good, funny, book though ('Just My Type' by Simon Garfield. Check it - as the youngsters say) and I will use the knife eventually for some project or other). Anyway later I shall be off to Wagamamas for some top grub.

Speaking of projects, the end of last week was mega-productive creatively (see my post later for the gob-smacking details and some grovelling). Not only have I managed to pull my writing fingers out at last, I even managed to make some Barbie clothes. (What? Me sewing? Surely not! Though calling what I did 'sewing' is vastly over-stating what actually happened, please don't look too closely at the 'stitching', which my dad lovingly compared to field surgery).

Anyway, I made a laced corset thing which I am considering a first draft at the moment as it needs some refining, an unremarkable black tube skirt/little black dress combo and an evening gown that I am amazed doesn't look too shabby!

Therefore: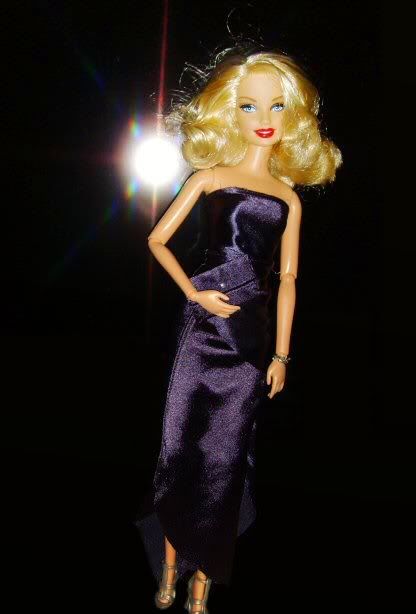 Lucy is papped arriving at the BAFTAs to acknowledge her nod for Best Supporting Actress. She looks elegant in a flattering and wearable mauve silk Bogwitch dress. The outfit is completed with a matching bespoke clutch bag.



You'd never guess it was made from an old bra.

.