In the absence of having else to say (nothing's happened here, except the death of my parent's cat), I thought I might reveal a little sneak peak of something I've been working on and maybe ask you all to set me a challenge to fill the time before anything decent is back on the telly.

About a year ago I had the sudden urge to recreate Black Widow as a 'live' action comic using Barbie, Ken, CY, Sindy Numan™ and other similar dolls. I got the script done, created all the panels, bought in props as needed (mucho £££), built sets, started the photography, then it kind of stalled for various reasons (lighting issues (a bulb on the fairy lights went and I can't be arsed to look through the Christmas dec boxes for a replacement), 'flooring' and working out how to build something that looked vaguely like a dumpster…).

For anyone familiar with the story, here's a sample panel from the project:

The examination scene.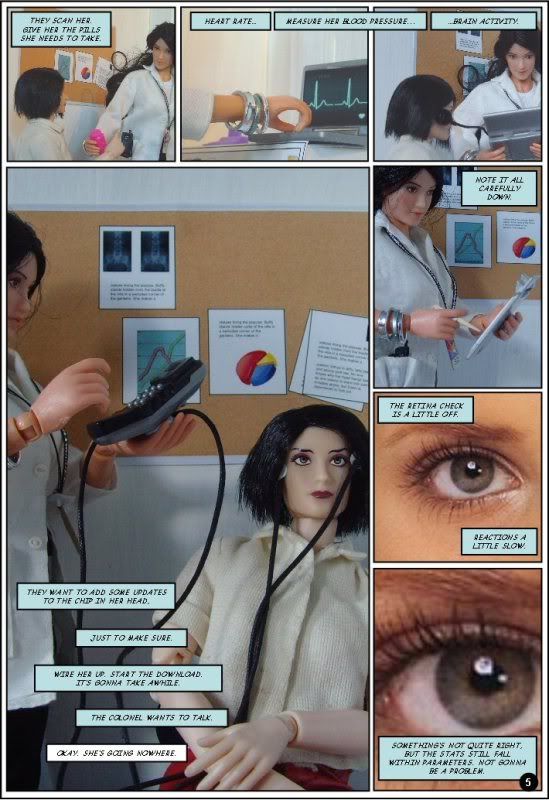 Yes, that's Dr Fuller from Limblessly in Love.

Anyway, I need to get the project finished and I need some motivation, so this is where the 'challenge me' bit comes in.

Give me a moment from the following and I will try to 'recreate it' in Barbie for a laugh*:

Buffy
Angel
Supernatural
The Vampire Diaries
Lost
Dark Angel
Roswell
Dead Like Me
Anything films etc that I've seen that don't have armour in them ETA: or period costume.

Plus!

I might be open to having a crack at:

Doctor Who (if I can have a screencap)
Scenes from fics (please supply link)

*bearing in mind the limitations of Barbie and her chums, i.e. most aren't that bendy, monsters are tricky (though I think I could do Lorne and Illyria) and older people don't seem to exist. I do at least have a number of male dolls (plus a Spike). I will otherwise have to work with what I have.

.