Day Three – From the Bosphorus With Love

Day Three was boat trip day. Now relying on my credit card, we took a taxi back to the Galata Bridge, with is no less seedy in daylight. Here we caught a three-hour boat trip up the Bosphorus to the Rumeli Fortress and back – after sitting on the boat for an hour waiting for it to fill up watching the bustle on the front.

The ubiquitous fishermen were still catching socks, but the traders had gone, disappearing like the beggars – not much trade for food during Ramadan. We watch a tumbler busking for a bit, tossing his baton and whirling it around his body (and dropping it quite a lot) before he get tired and melts away into the crowd.

Finally we get away, chugging leisurely up one side of the Bosphorus past lots of things.

Galata Bridge. Still think it's dodgy: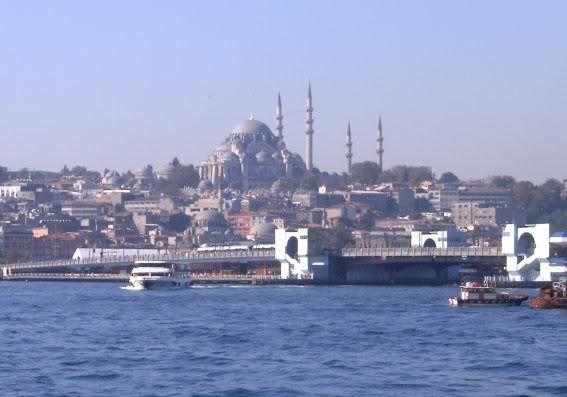 Ortakoy Mosque dwarfed by the Bosphorus Bridge: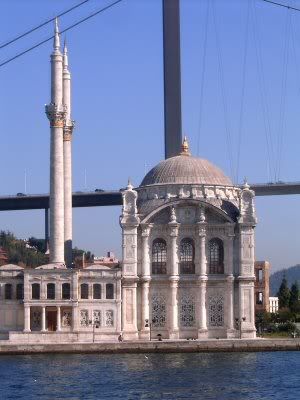 The Maiden Tower: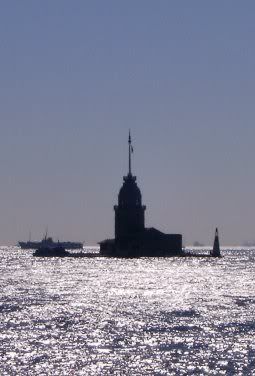 There was a ton of jellyfish in the water under the rubbish, and it looks like they feed from whatever junk floats their way. In fact there's so many of them you could heat the water and have a respectable jellyfish soup (not that I'd recommend eating that).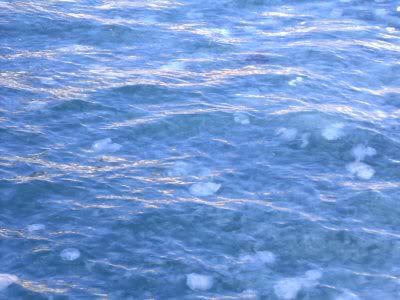 Lunch was Chicken Schnitzel again in a cafe by the fortess. I won't say much about being locked in the posh toilet…

Rumeli Fortress (not the toilet):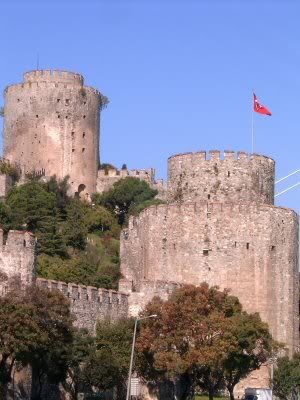 Back on land, my mother has the bright idea of getting a tram to the Grand Bazaar. The Saturday afternoon crush brings us much closer to the locals than is entirely comfortable, which means we're tetchy before we even get into the covered market which is airless, hot and not ideal for happy shopping. Frankly, I couldn't wait to get out, but I did buy a lamp from a lamp shop. Neither myself or any member of my family is in this photo.



(my dad's photo. I missed that oppotunity)

We had dinner in an outdoor café dominated by the Blue Mosque. As we ate there was a Sufi music show with a Dervish. The music made me long for the desert…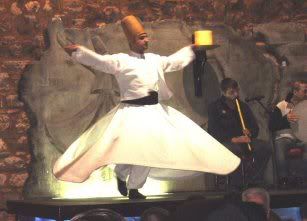 We took a long route back to the hotel, which proved to be a costly mistake! We were admiring the ceramics in the window of a shop we thought was closed, and as if by magic, the shopkeeper appeared! And he conned us into buying lots of stuff.


.